New9 Exclusive Story in News9
All India Radio

http://telanganatoday.news/green-yet-profitable-recycling-waste-materials

he past decade has seen an increase in consumerism to the point where people don't think twice before veering towards a product that might be potentially harmful to the environment, as long as it is low cost and dispensable, leading to a demand for single-use products. Observing this disturbing trend, a few entrepreneurs have come up with innovative ways to combat it by using materials usually thrown away during production.
Natural fibre clothing untouched by chemical dyes, biodegradable cutlery, rice husk showpieces are what you get when you log on to Save Globe's web portal run by entrepreneurs Suhasan Reddy and his wife Harika. "We had been toying with the idea to start a company which dealt with biodegradable products since 2011. Initially, we started with bags, tableware and then turned to coconut coir baskets," explains Suhasan.
You can eat lunch using an eco-friendly spoon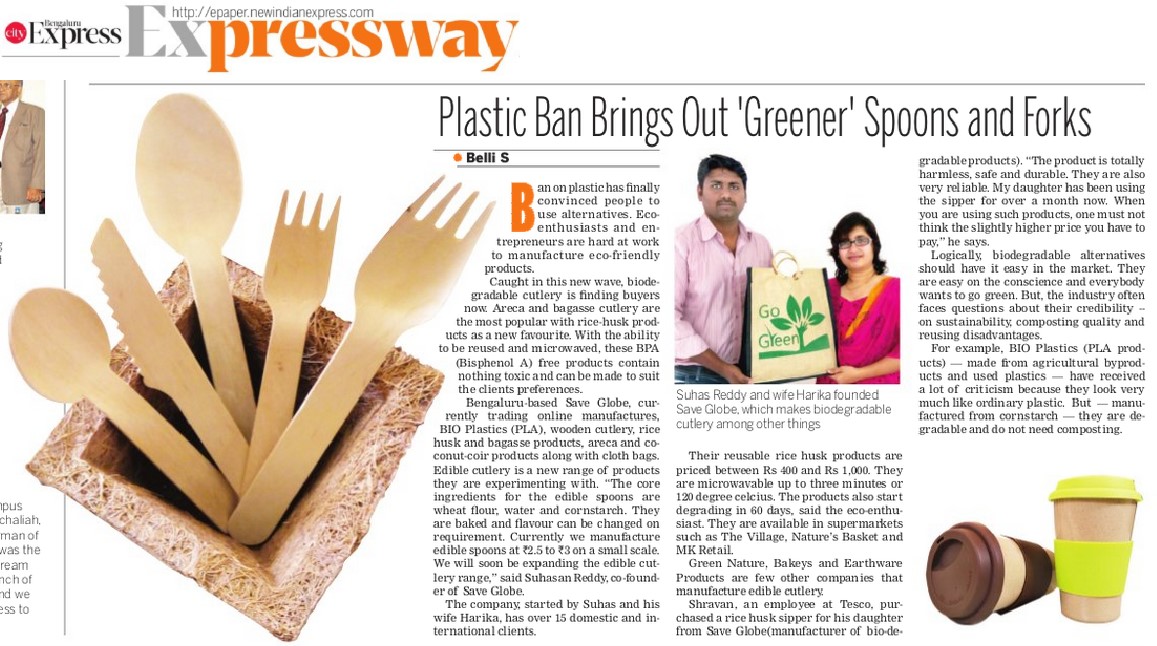 The ban on plastic has finally convinced people to use alternatives. Eco-enthusiasts and entrepreneurs are hard at work to manufacture eco-friendly products. Caught in this new wave, biodegradable cutlery is finding buyers now. Areca and bagasse are the most popular ones, with rice-husk products as a new favourite. With the ability to be reused and microwaved, these BPA-free (Bisphenol A-free) products contain nothing toxic and can be made to suit the client's preferences.
Suhasan & Harika Bengaluru-based Save Globe, currently trading online manufactures BIO Plasics (PLA), wooden cutlery, rice husk and bagasse products, areca and coconut-coir products along with cloth bags. Edible cutlery is a new range of products they are experimenting with. "The core ingredients for the edible spoons are wheat flour, water and cornstarch. They are baked and the flavour can be changed on requirement. Currently we manufacture edible spoons at `2.5-3 on a small scale," said Suhasan Reddy, co-founder of Save Globe.
The company, started by Suhasan and his wife Harika, has over 15 domestic and international clients. Their reusable rice husk products are priced between `400 and `1,000. They are microwavable up to three minutes or 120°C. The products also start degrading in 60 days, said the eco-enthusiast.
Shravan, an employee at Tesco, purchased a rice husk sipper for his daughter from Save Globe. "It's a safe and durable product. My daughter has been using it for over a month," he says.
But, the industry often faces questions their credibility on sustainability, composting quality and reusing disadvantages. For example, BIO Plastics, made from agricultural byproducts and used plastics, have received a lot of criticism as they look very much like ordinary plastic. But they are manufactured from corn starch; they're also biodegradable and do not need composting.
Click here for full article
For an Ecofriendly Dining Experience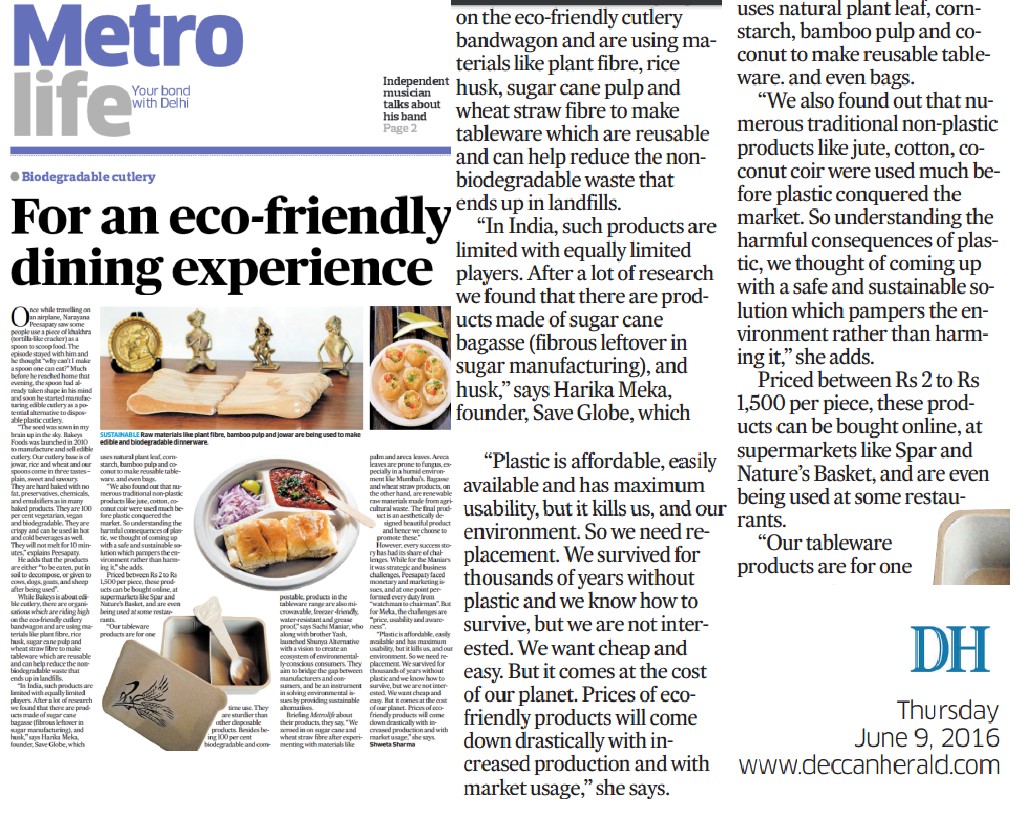 Click here for full article
Eco activists: The Next gen eco warriors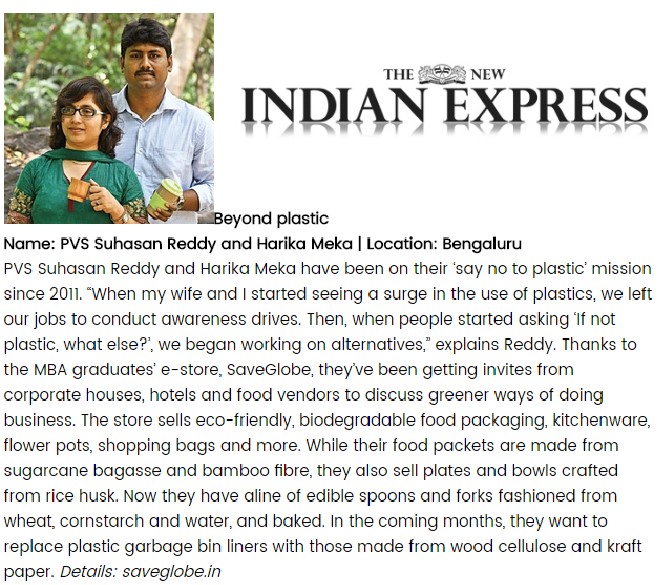 Click here for full article
Dinakaran - Vasantham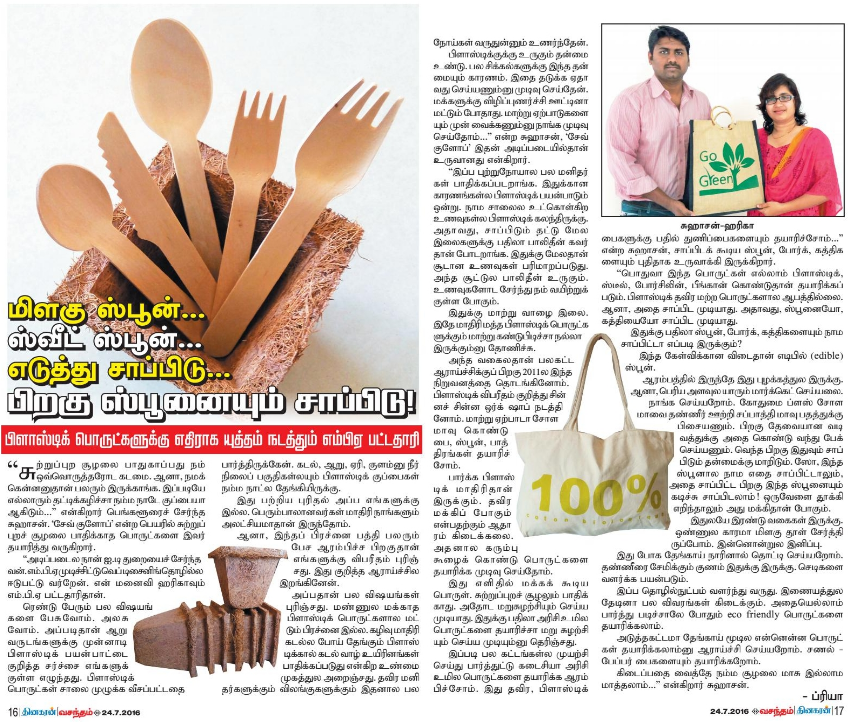 Click here for full article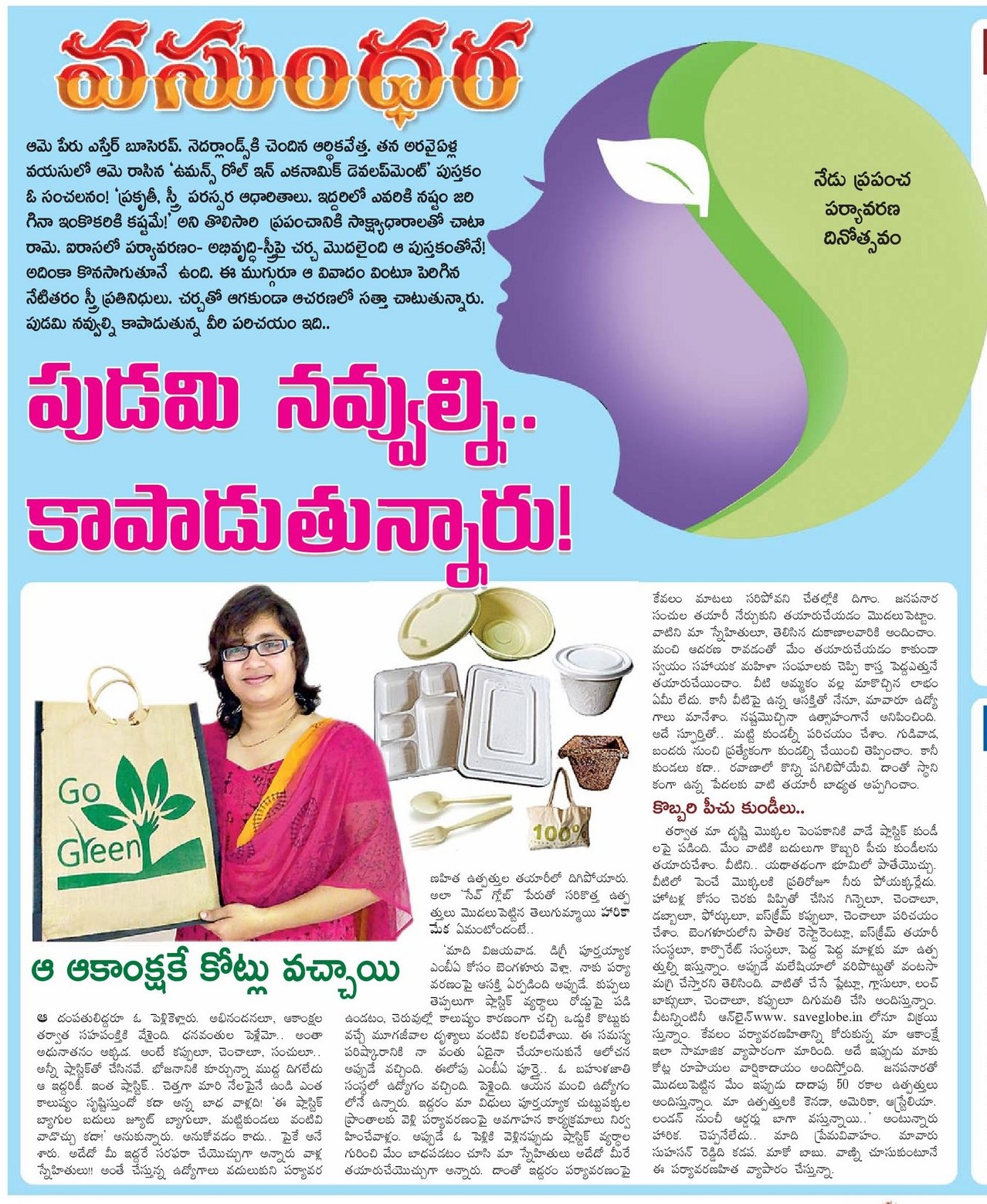 Click here for full article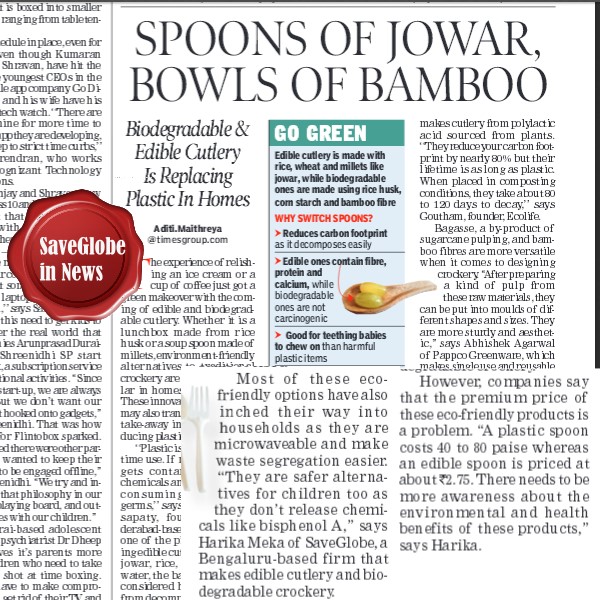 Click here for full article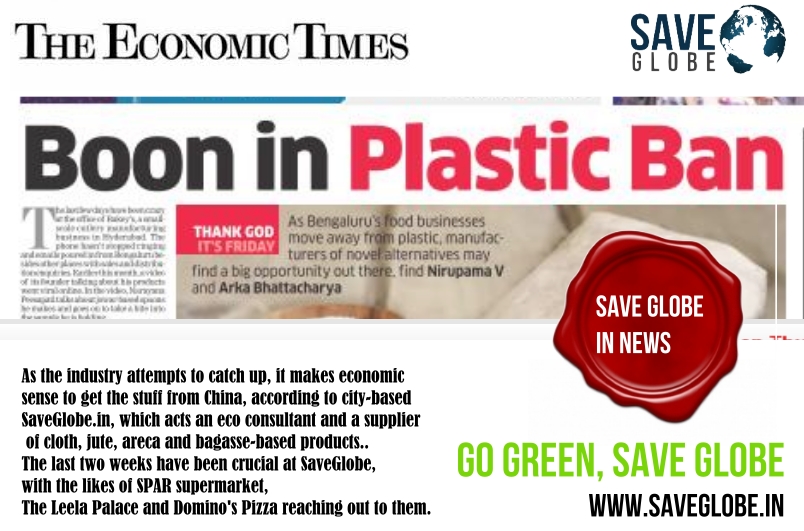 Click here for full article
SaveGlobe's e-shop gives you valid reasons to say no to plastics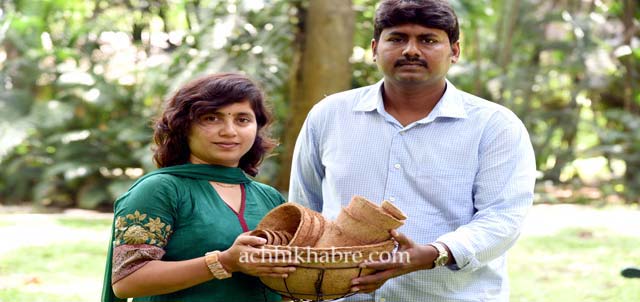 They used to worry whenever the thought of rising demand of plastic products struck their minds. And the very thought often left a heavy burden on their conscience. That is why PVS Suhasan Reddy and Harika resigned from their respective jobs in 2011, and became a part of 'say no to plastic mission'. They started awareness programs to educate people about the dangers lurking behind the convenience which people generally avail from using plastic products. Plastic products are durable, easy to manage and cost friendly. 'If not plastic, then what else?'- is the most asked question they faced during the entire awareness process. But the question struck home and they woke up to the fact that casting plastic aside was a rather difficult job. They started working on alternatives and ended up with the SaveGlobe e-store.
Click here for full article
Meet India's Number One Brand For Biodegradable Products – Saveglobe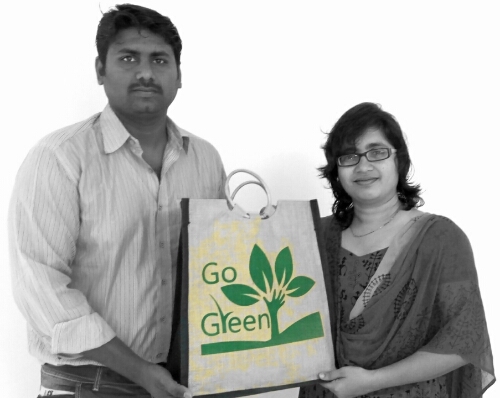 Green is not just a colour but it signifies sustainability and when we talk about bringing sustainability, it has to be a holistic approach, from the buildings we live into the products we use in our daily life. Here we bring to you excerpts of an interview with the founder of India's number one brand for biodegradable products, Mr. PVS Suhasan Reddy. In one to one chat with GoSmartBricks, Mr. Suhasan told other smarter ways(apart from using smart bricks) as well which can bring a lot of positive change and improvement in the current situation of our mother earth. Have a read.
Click here for full article
You can buy our ecofriendly products in india at buy our products