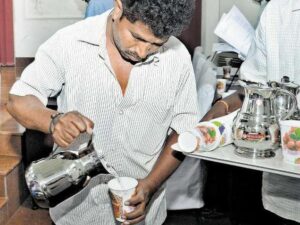 In the wake of the ban on plastic bags and covers in Bengaluru, many shopkeepers and hoteliers have started using 'cloth bags' and 'paper cups.' But most of these contain non-biodegradable plastic and fall under the purview of the ban implemented last month.
The authorities attribute the widespread use of paper cups and cloth bags to lack of awareness. Despite the ban, plastic is finding its way again into the system through these articles. "Non-woven bags are passed off as cloth bags due to their texture. But they are essentially polypropylene bags, which have a high plastic content," says Sarfaraz Khan, Joint Commissioner, Solid Waste Management, Bruhat Bengaluru Mahanagara Palike (BBMP), adding that they are manufactured by thermally melting a binder of small plastic fibres.
A similar principle applies to paper cups. They have a layer of plastic between two layers of paper to withstand high temperature, as they are used to serve coffee or tea. This is, in fact, the reason for the difficulty in tearing up these 'paper' cups.
The BBMP recently advocated the use of steel or glass tumblers to distribute panaka (jaggery water) during the Ramanavami celebrations. Most mandals did away with plastic cups but opted for paper cups, defeating the purpose, officials said.
Many shops still use Styrofoam plates and cups, which are essentially made of thermocol, which is also banned.
A simple test BBMP officials advocate to determine whether or not a material is plastic is to burn it. If it is plastic, the material will release dense fumes and will not burn completely.
Environmentalist A.N. Yellappa Reddy said the authorities should take samples of these products, get them tested and penalise manufacturers.
Shopkeepers and hoteliers have opposed the civic authorities' move to seize 'cloth bags' and 'paper cups' and penalise them. Nagarajappa. N., who sells condiments, said: "We shifted to cloth bags following the plastic ban. Now officials say even that has plastic content."
Anti-plastic activist Kavita Reddy of Hasiru Mitra said: "Most shopkeepers are ignorant. They fall for claims of the manufacturers. Moreover, it's a cheaper alternative."
 http://www.thehindu.com/news/cities/bangalore/bengaluru-grapples-with-plastics-in-disguise/article8531278.ece