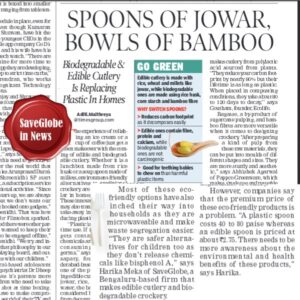 Biodegradable & Edible Cutlery Is Replacing Plastic In Homes
The experience of relish ing an ice cream or a cup of coffee just got a green makeover with the com green makeover with the coming of edible and biodegradable cutlery . Whether it is a lunchbox made from rice husk or a soup spoon made of millets, environment-friendly alternatives to traditional crockery are becoming popular in homes and at events.
"They are safer alterna tives for children too as they don't release chemi cals like bisphenol A," says Harika Meka of SaveGlobe, a Bengaluru-based firm that makes edible cutlery and biodegradable crockery .
However, companies say that the premium price of these eco-friendly products is a problem. "A plastic spoon costs 40 to 80 paise whereas an edible spoon is priced at about `2.75. There needs to be more awareness about the environmental and health benefits of these products," says Harika.